Computing and Networking Center
Facilities and Affiliated Research Institutes
This center is designed to "improve information education", "computerizing education", and "develop office functions" as an ICT support organization. As a common facility with 1,350 computers, it is intended to offer a better ICT service for students as well as faculty members.
Our main services are the operation and maintenance control of campus network which is connected to more than 10,000 information technology devices, the development and management of education, research and office data work system, seminar of information literacy for students, seminar of national qualification exams related to ICTs, and seminar of private-sector qualification exams.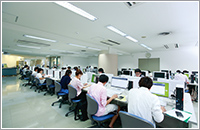 Our center provides 1,350 PCs capable of using more than 120 application systems which are necessary for conducting study research. Furthermore, we have a Wi-Fi environment of more than 700 places inside campus. The Office365 software is valid for 4 years free of charge.
Extra curriculum for the qualification exams
We provide 26 extra curriculum course of 16 categories aimed to pass the private –sector qualification exams of information handling
Seminar of information literacy
We provide 32 free seminars of 16 categories to the freshman students who wants to study information literacy. Students attending the seminar will be able to acquire the basic PS skills that are necessary in campus life. Addition to that, students can acquire not only Office skills such as Word, PowerPoint, Excel, Access, but also will be able to use the basic functions of Adobe.
As a part of community lifelong education, we have an experience workshop for elementary school children to learn programming.
If the students feel they need help when using the PC at our center, they are always free to ask our 4 student assistants or system engineer anytime.