Computing and Networking Center
Facilities and Affiliated Research Institutes
The Computing and Networking Center (CNC) is an organization that harnesses the "power of ICT" to support the computerization of education, information education, academic research, and enhancing administrative processing capabilities within the university, in addition to offering better services as a university-wide ICT joint facility.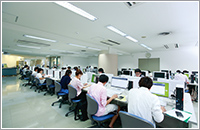 The main services provided by CNC include the operation and management of the three key infrastructure systems of "KIND3," an academic information network that connects information devices on campus via a high-speed network; "ARMO Duo," an education and research system that supports education and research; and "K's Life," a student education support and administrative information system that caters to the needs of students. The center also regularly organizes information literacy workshops and seminars that help participants to acquire various information-related qualifications.
CNC is constantly developing, operating, and equipping itself with the latest information infrastructure in order to advance its founding ideal of "Unification of Industry and Academia." through the "power of ICT" by "bringing together the industry and the university like two wheels of vehicle to meet the society needs of the time".