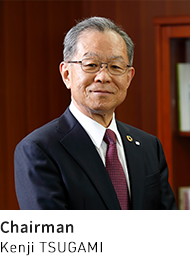 Our Founding Ideal is "Unification of Industry and Academia." In order words, "Industry and academia must be unified, working interactively like two wheels of a vehicle to meet the societal needs of the times." Today, universities everywhere are trying to show how they are working for the good of the community; however, one cannot help but admire the foresight of our founder, Jishiro Nakamura, who was already expressing similar sentiments 60 years ago.
2020 marks the 60th anniversary of our foundation, and it is this year that we have set as the final year of our 5-year mid-term plan. With the idea that we are now entering the 2nd stage of our evolution as an institution, in this plan we reaffirmed our commitment to becoming a community-oriented university while upholding our Founding Ideal.
Our vision is to help students become cosmopolitan persons of culture who are sound in both body and mind. In order to achieve this, we have embarked on a number of institutional reforms, including our educational systems.
More specifically, we run a program called "KSU Fundamental Education" in which all students enrolled at this university study common subjects like Liberal Arts, Foreign Language and Specialized Basic subjects over a period of 2 years, and develop the fundamental skills needed to flourish in society.
In addition to this, we have introduced "KSU Project-based Education," which aims for students to develop practical skills, the ability to co-create and leadership skills, all of which they will need if they are to work on the frontline of society. Furthermore, we have breathed new life into all our faculties and departments, starting in 2016 with reforms to our arts faculties and college, followed by reforms to our science faculties in 2017, and to our humanities faculties in 2018.
At the same time, we have also been focusing on improving our facilities to provide students with a more enjoyable campus life, such as by upgrading our educational environment, renovating faculty buildings, cafeterias and toilets, and turning the inner courtyard into a garden.
Reforms such as these have gradually helped raised our profile outside the university, leading to an increase in applicant numbers, an improvement in the employment rate among graduates, and a higher ranking in surveys on university brand image.
On the assumption that reforms and improvements are a core aspect of education, in anticipation of our 60th anniversary in 2020 and our 100th anniversary further down the road, we at Kyushu Sangyo University will continue nurturing outstanding human resources who are well equipped to meet the needs of society.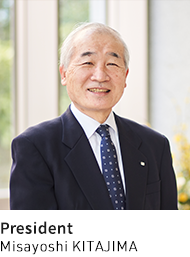 Kyushu Sangyo University is a comprehensive university with 9 faculties and 5 graduate schools, where over 10,000 students devote themselves to their studies. To date, around 120,000 individuals have graduated from our university, who have gone on to follow a diverse range of career paths in society. It is now evident that ratings for our educational programs are improving year by year. For instance, thanks to our unique career education, we received an overall ranking of 61st place for employment success in the Nikkei careers magazine "Kachi Aru Daigaku (Worth of Universities to Students) 2019 Edition" (3rd in Kyushu, after Kyushu University and Kumamoto University), and we have received high praise from businesses as a university which provides proactive career support, coming in at 9th position.
This is thanks to the exhaustive guidance we provide to each and every student with the cooperation of faculty staff, which aims to develop highly competent and practical human resources who are ready for the world of work. Our students learn
both fundamental academic competencies and practical abilities that enable them to develop the kinds of problem-solving skills in demand in society. These capabilities are nurtured through two distinctive programs: KSU Fundamental Education, which all students at the university are required to take, and KSU Project-based Education, in which students tackle issues in collaboration with local businesses and administrative bodies.
Our Founding Ideal, "Unification of Industry and Academia," stresses that industry and academia must be unified, working interactively like two wheels of a vehicle to meet the societal needs of the times. One of the missions of universities in recent years is to help develop the kinds of human resources who can meet the challenges of today's rapidly changing world. Following on from reforms to our arts faculties in 2016 and science faculties the following year, in 2018, we established the Faculty of Human Sciences and the Faculty of Collaborative Regional Development, with the aim of developing human resources who can contribute to solving regional challenges, such as regional revitalization, the promotion of tourism, and addressing the shortage of childcare workers.
Each person's individuality is a unique source of strength. Here at Kyushu Sangyo University, we provide students with the support needed to continue learning into the future in the belief that doing one's best will bring out one's best.

Unification of Industry and Academia

The academia must move in close coordination with the industry to meet the needs of the society of the times.
Promotion of self-awareness as a citizen and the spirit of the middle path Establishment of practicality-oriented academic traditions

It stands for the development of graduates with a broad perspective, an unbounded outlook, and excellent judgment who are capable of playing leading roles in society.
This principles is vital to realization of our funding ideal "Unification of Industry and Academia".
Kyushu Sangyo University aspires to develop practicality-oriented and passionate human resources with a rich sense of humanity in order to meet the expectations of industrial circles.
Vision towards the 100th Anniversary
The University That Designs New Knowledge and Regions
– Beyond conventions. Beyond constraints. –
A university leading in unique fusion education in the Humanities, Science and Art to inspire the globally active next generation.